From http://www.phoenixbonsai.com/Days/DaysIndex.html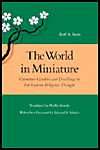 1999 --
Rolf A. Stein
died in Paris. (He was born in Berlin where he did part of his Oriental studies. Going into exile in Paris in 1933, six years later Professor Stein joined the prestigious École Française d'Extrême-Orient. His early field studies were done in Vietnam and China. In 1943 he published his first book,
Jardins en miniature d'Extrême-Orient
, a sophisticated exploration of a complex subject, full of brilliant insights. Later on he taught at the prestigious French institute Collège de France and it was during his tenure there (1966-1982) that he published successively three prominent books in relations to the Tibetan culture. Up until 1992 Stein continued to participate in the academic works, and in collaboration with other prominent Orientalists he authored books on Buddhism, Tantra and Mythology. In 1987
Jardins
was republished in its original French along with a 1958 work about "Dwelling Places [of the Spirits], Their Physical Details." Three years later an English translation of those two was published with a new third study, "The World and Architecture in Religious Thought," as
The World in Miniature: Container Gardens and Dwellings in Far Eastern Religious Thought
. This awesome work brings into sharp focus myriad subtle mutations of the miniature garden which -- reflected in the temples of Heaven, pagodas, the felt tents of nomads, and ultimately the human body itself -- informs cosmology, ritual, ethics, aesthetics, and many aspects of everyday life. Symbolism and history of dwarf potted landscapes unknown anywhere else can be found here. Yes, we do deal with magical miniature landscapes.
["Rolf Stein Passed Away in Paris," World Tibet Network News, Friday, October 15, 1999, http://www.tibet.ca/en/newsroom/wtn/archive/old?y=1999&m=10&p=15_6 ; Foreword by Edward H. Schafer in The World in Miniature (Stanford, CA: Stanford University Press, 1990), pp. xviii-xix]